General info
Germany prepares for the arrival of the hardest happening of the nation.
A brand-new festival alliance by the creators of SYNDICATE will present a gathering that is powered by the pure forces of hardcore, hardstyle, hardtechno, hardtech and rawstyle.
Divided over 5 raging stages, REVOLT will unleash the most rebellious harder styles legion that the country has ever seen.
Join the REVOLT or face the fatal consequences. Get your tickets now at revoltfestival.de/tickets.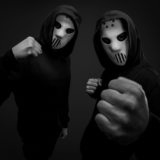 Angerfist Live
Radical Redemption
Warface
Atmozfears
Korsakoff
Mad Dog
Destructive Tendencies
Code Black
Re-Style
Deadly Guns
KELTEK
ANDY SVGE
Jay Reeve
Tensor & Re-Direction
Tha Watcher
Partyraiser
AniMe
Nosferatu
Tha Playah
Noize Suppressor
D-Fence
F.Noize
Drokz
Furyan
Bulletproof
Never Surrender
Access One
D-Ceptor
MC Syco
Digital Punk
E-Force
B-Front
Sub Sonik
Act of Rage
Crypsis
Delete
Rebelion
RVAGE
Phrantic
Dalora
Nolz
Candy Cox
PETDuo
O.B.I.
Viper XXL
Svetec
Greg Notill
Andi Teller
BMG live
Minupren
Die Gebrüder Brett
Komacasper vs. Nogge
Anormal & Hunnel
Extaso
Vintekk
Tickets
Go to ticketshop
I didn't receive my ticket(s) or lost them, what to do?
Tickets will be sent to your email address right after you completed the payment. Didn't receive them or lost them? Go to paylogic.nl/tickets, enter your email address and you will receive your tickets again.
You can also download your tickets in your Paylogic profile. Log in over here. Can't find your tickets in your Paylogic profile either? You might have used a wrong email address or made a typo. Please contact Paylogic customerservice so they can change this.
I used a wrong email address, can this be changed?
Location
Venue

Flugplatz Pferdsfeld

Street

Industrial Park Pferdfseld

Postal code

55566

City

Bad Sobernheim
Get directions
Newsletter
Want to be the first to receive all info about Revolt 2019?
Subscribe to the Revolt newsletter below and be the first to receive all info about the festival, discount and/or loyalty promotions, the line-up, anthem and more! By clicking 'Subscribe' you agree to our privacy statement.